Who is Wendy Mae Chambers?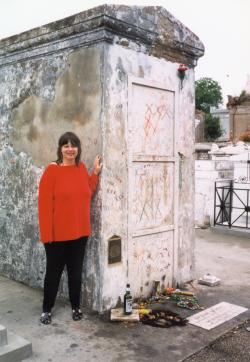 Wendy at the tomb of Marie Laveau
Wendy Mae Chambers wants to see "Voodoo on the Bayou" on Broadway!.

She has appeared on The Tonight Show (2000) with Jay Leno and on CNN (1996). On National Public Radio she was featured on All Things Considered, Weekend Edition and Performance Today. She has made numerous appearances on WNYC Radio.


CRITICS WRITE ABOUT WENDY MAE CHAMBERS!
Wendy Mae Chambers composed "The Symphony of the Universe." It was recorded live at The Cathedral of St. John the Divine. New port Classic NDP 85552

"Symphony of the Universe began with a pun: "The Big Bang," a movement scored for 100 timpani (18 players) and five bass drums, spread the length of St. John's … the players beat fauvist 4/4 patterns, animated by Le Sacre-like off-accents, sudden crescendos, and pounding climaxes. … Every now and then a fiery motive would burst out on one drum, then zip across the hall like sonic lightning …and its energy shot through an audience of 800 to 1000 people as though they were wired together … Like great choral works from Handel through Holst, Symphony of the Universe, gathered a large audience into contemplation of a single thought, not via rock's effortless amplification, but through melody, harmony, repetition, and a magnificent deployment of space… you walked out of St. John's with a sense of having participated in a communal experience." Kyle Gann,The Village Voice, June 1989

Wendy Mae Chambers composed "The Symphony of the Universe" which was recorded live at The Cathedral of St. John the Divine. Available on Newport Classic

"The first movement, "The Big Bang", calls for 100 tympani and five bass drums. The absolute power of this movement, … is breathtaking. The composer's use of ostinato, shifting metric configurations and altered accented patterns all combine to create one of the most dynamic percussion ensemble-type pieces ever composed. … Overall, it is not an overstatement to say that this is truly one of the greatest symphonies ever composed. … If you buy only one twentieth-century classical compact disc this decade, make it this one." Thomas Erdmann, Women of Note Quarterly, August 1997
Wendy Mae Chambers composed a voodoo tone poem, "12 Squared," for 12 percussionists. Available on New World Records 80526-2

"A great unholy din filled St. Paul's Chapel at Columbia University on Thursday night, on the occasion of the world premiere of Wendy Mae Chambers's "Twelve Squared" for 12 percussionists. This percussion extravaganza was written as a memorial to John Cage, who died on Aug. 12, 1992. It combined some of the indeterminate techniques of Cage's mature period with the severe rhythmic regularity of his early works. The result was, oddly enough, fuller and more vigorous than anything in Cage's output: a tribute that momentarily transcended its subject." Alex Ross, The New York Times, July 23, 1994

"Varese wrote Ionisation, John Becker wrote The Abango, Steve Reich wrote Drumming, and Chambers has written 12 Squared, which may surpass them all." Kyle Gann, The Village Voice, September 1, 1998

"Chambers conjures up a greater variety of texture and emotion from her collection of drums and mallet instruments than many composers do from a conventional orchestra." Mark Stryker, Detroit Free Press
Wendy Mae Chambers composed One World Percussion for 50 percussionists that was performed at the World Trade Center Fountain Plaza on September 26, 1981.

"Three hours after the sun stood vertical in the heavens, on Saturday the 26th day of the ninth month, at the omphallos of lower Manhattan, in the exact center of the cement and metal canyon framed by the towering pillars of the World Trade Center - "One World Percussion" was born. … The "One World" began with the low rumble of bass drums, reaching a gradual crescendo that sounded like some primitive call to arms. For an hour there were massive cymbal-shimmmers, drum beats, gamelan exoticism, military rhythms fading into breezy whistlings, segments of African rhythms, American folk pulses. Blocks of sound, some suggesting a herd of cows wearing wind chimes on a foggy day, came in waves, built to a climax and faded into others. Five hundred instruments were sounded, including air horns, police whistles, tom toms, congas, Tibetan horns, cabazas, fog horns, steel plumbing, marine bells and sirens. The twin towers were mute witnesses to the tribal event that echoed against their imposing walls , stolidly standing, immune to pounding of garbage can lids wielded by latter-day Joshuas. No walls fell, but the effective primitive energies could not have gone unnoticed." Edward Rothstein, The New York Times, September 29, 1981
Wendy Mae Chambers composed "10 Grand," for 10 grand pianos. Available on Newport Classic NDP 85553

"The composer Wendy Chambers delights in good-natured spectacle. Her massive works are one part music, one part conceptual art and one part shrewd public relations. On Tuesday night, Miss Chambers presented her latest extravaganza, "10 Grand," on the north plaza of Lincoln Center. This hour long, multimedia event was scored - appropriately - for 10 grand pianos, as well as two conductors and a visual descant of laser lights. Miss Chambers's score combined a lean, melodic sense and a perceptive understanding of spatial relationships - as when separate pianos would pass a recurring motif deftly around the plaza. … infused with extraverted vigor. … with a virtual who's who of pianists to participate." Tim Page, The New York Times, September 15, 1983
Wendy Mae Chambers composed a requiem for 77 trombones, which was recorded live at the Cathedral of St. John the Divine. Available on Centaur CRC 2263

"Ever since Gabrieli wrote resounding music for brass choirs to be played in Venice's St. Mark's Cathedral in the early 18th century, composers have been drawn to the possibilities of spatial music amid similar domes and arches. On Saturday night, Wendy Mae Chambers took over the Cathedral of St. John the Divine - the ultimate sound chamber - and honorably continued that tradition with "A Mass for Mass Trombones", a requiem in memory of her father. … She has clearly tamed the big space, and Gabrieli is probably smiling." Shirley Fleming, New York Post, June 21, 1993

"Admiration for her energy, her organizational capacities and the sheer Busby Berkeley-esque grandeur of her imagination … Throughout the evening, one had no doubt that Chambers knew exactly what she was doing and that she was doing it very well. … (I was reminded at times of the opening three minutes of "Das Rheingold," at other times of the spatial music of Gabrieli) It takes a special skill to write for a space so resonant as the cathedral; …there is so much that is rich, beautiful, deeply felt and hard won in this mass … I listened to it from several places in the hall - at times it seemed a succession of musical clouds merging and melding in the dark; at other times the sound seemed to emanate from some cosmic organ, with some of the pipes a mile away and others placed right inside the ear. I hope the majestic power of this mass will come across on a recording…" Tim Page, New York Newsday, June 21 1994

"She's the 20th Century Berlioz, with a huge sonic imagination no average concert hall can contain … acoustically unprecedented." Kyle Gann, The Village Voice, June 1994
Wendy Mae Chambers invented a musical instrument called the Car Horn Organ, which was featured in Smithsonian Magazine.

"Wendy Chambers thrives on the unusual. After studying classical music at Barnard College in New York, she wrote a composition that was performed in a parking lot by an orchestra of cars. … Fueled by inspiration, Chambers built a 25 - note organ out of car horns and recorded a single - "The Star Spangled Banner." The inspiration of Chambers' organ came in a dream: "I was hearing an incredible symphony with these massive, beautiful chords, totally sustained and gradually shifting into other chords. As I woke up, I realized I was hearing a huge traffic jam on the Brooklyn-Queens Expressway." Susan Borey, Spin Magazine, August 1984

"And after hearing Wendy Mae Chambers' collection of car horns blare out a charmingly cacophonous version of "New York, New York," I suspect you won't ever feel quite the same way about traffic, big cities - or music - again." Mark Rowland, Music Central, December 10, 1996

"…the most annoyingly appropriate version of "New York, New York" ever." Daniel Buckley, Tucson Citizen, December 19, 1996

"Others are - how shall we say? - bracing, like Wendy Mae Chambers's car-horn organ, which, in the stunning finale, honks out the rudest rendition on record of "New York, New York." The New Yorker, Dec. 23 & 30, 1996

"Wendy Mae Chambers' version of "New York, New York," squonking and tooting out of an organ she built entirely from car horns, is funny and raucous enough to become the city's official anthem." Strausbaugh, New York Press, January 7-13, 1998

"And how can you not love an album that ends with a version of "New York, New York" played on an organ made out of car horns?" Billboard, November 18, 1996
Wendy Mae Chambers is the first person to have performed a debut solo recital on the toy piano to great critical acclaim.

"Ms. Chambers is a splendid player in music that often bristles with difficult rhythms and meters. She also approaches her medium with good humor and a sense of fun, but make no mistake about her belief in it. This concert was not a childish undertaking." Bernard Holland, The New York Times, June 22, 1996

"The composer and conceptual artist Wendy Chambers tends to think big, filling the great spaces of Manhattan with arresting sounds and images. In the Cathedral of St. John the Divine, she has mustered 100 timpani as part of a much larger ensemble, and on another occasion 30 harps. She has massed 10 pianos on the Lincoln Center Plaza. She has deployed large groups of performers on the World Trade Center Plaza and, with the help of rowboats, in and around the Central Park lake. On Saturday evening, in the cramped confines of the Not Room at the Knitting Factory, Ms. Chambers went to the other extreme." James R. Oestereich, The New York Times, June 22, 1990

"Ms. Chambers is not only a composer, but also possibly the world's foremost virtuoso of the toy piano, which she demonstrated on the first half of the program. She gets a remarkably aggressive sound out of her tiny, tiny instrument." Alex Ross, The New York Times, July 23, 1994

"Chambers played splendidly. Indeed, throughout the evening, her playing was lively stylish and even virtuosic, however diminutive her forces. And she has the necessary grace and good humor to pull off an event of this sort." Tim Page, New York Newsday, June 1990
Wendy Mae Chambers came to fame with "Music for Choreographed Rowboats" for 16 musicians in rowboats oared by the Columbia University crew team.

"You could call it a conceptual art event, a somewhat eccentric concert, a good-natured gag, sonorous athletics, a video circus or an amiable mess. Whatever its description, Wendy Chambers's "Music for Choreographed Rowboats" managed to fill up large parts of the Lake in Central Park yesterday afternoon to generally charming purpose. …The boats … proceeded … out onto the main portion of the lake and there began a series of choreographed patterns - figure eights, clusters, star-bursts, circles, S's and so on. These were accompanied by trills, bleats, blats, croons and pulses from the assembled wind and brass players. … Most everyone from Miss Chambers, who has a big smile, on down seemed to get a kick out of it." John Rockwell, The New York Times, Sunday, July 22, 1979
---